Rick Maue Presents...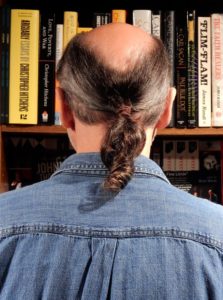 The Next Step
We all know the steps...
We learn the effects. We master the methods. We work out the "patter". Then, we take the stage. But, so many folks never take The Next Step.
Earlier this year, Rick Maue hosted two highly-acclaimed, sold-out workshops at his home (and he has a waiting list that would fill several more sessions.) Each included the keys to taking our performances, and our careers, to the next level. The workshops focused on rising above being a mentalist and becoming a true performer, as well as how to achieve greater success...both artistically and financially.
Digging deeply into character development, making presentations more theatrical, creativity, storytelling (not in that bombastic "bizarre magick" way), acting, and other crucially essential areas, those successful two-day sessions will be the rock-solid foundation for "The Next Step Workshop" at this year's MINDvention.
For years, Rick was in great demand in the corporate arena. His presentations, seminars, and performances were unlike anything else in the world of mentalism and magic. Armed with original material, a charismatic persona, a strong ability to communicate, and intense passion for his work, he created life-changing experiences for countless people from coast to coast.
"The Next Step Workshop" will introduce you to the "hows" and "whys" of Rick's ways of thinking, his methods of creating, his great success, and his passionate desire to do so much more than merely fool people. In short, in this workshop, Rick will give each attendee his heart. More importantly, he will show you how to adopt the things he did for nearly two decades.
In addition, each attendee will receive a copy of "The Next Step" notes and workbook; a download of the lecture Rick did last year with Johnny Thompson and Paul Vigil; and two hours of personal, one-on-one phone consultation with Rick.
In essence, "The Next Step Workshop" can be summed up in a wonderful quote from Bob Dylan: "Life isn't about finding yourself, or finding anything. Life is about creating yourself, and creating things."
Register on Mindvention's website and be sure to take advantage of a Special Deal.