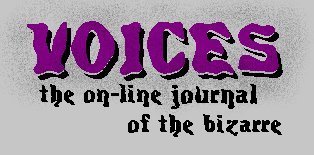 Our on-line magazine has been around, in one form or another, for almost eight years. The original idea behind VOICES was simply to have a place to present some interesting views of theatrical deception. Whether publishing routines or essays (or just about anything else), we simply wanted to offer the magic community something (at no cost) that would not be considered mainstream. I think, for the most part, we have succeeded. After all, it would be hard to fail with contributors like Christian Chelman, Max Maven, Kenton Knepper, Doc Dixon, Jay Sankey, Simon Lovell, Penn Jillette, and Teller.
Although time does not really permit VOICES to come out very often at this point (hell, it never came out on a regular schedule at any point), we have not abandoned it. Future issues will surprise you when they suddenly show up out of nowhere--like magicians and mentalists do at my place when they are passing through Pittsburgh in the middle of the night.
But for those that may have missed out, we are putting together The VOICES Archives, which will feature a small collection of things from the previous issues. Our first two entries are our two most requested items. The first is our interview with Penn Jillette, and the second is our interview with Teller.
In the future we will add some other articles from the early issues.
And although we make no promises in regard to the schedule, if you would like to receive any future issues of VOICES, just send us an email here or here. (Due to massive computer problems over the past couple of years, feel free to send us a request even if you think you may still be on the mailing list.) Time does not permit us to send confirmation for each subscription request.
Finally, remember that VOICES is a free service. It is our way of saying thank you to the magic community.
Keep the change,
Rick Maue
Deceptions Unlimited
~~~~~~~~~~

VOICES is an on-line magazine for performers and creators of theatrical deception. It is published by Deceptions Unlimited. No portion of this magazine may be reproduced in any form without the written consent of Deceptions Unlimited.
All Rights Reserved © 2000 - 2012
Written, Edited & Published by:
Rick Maue
~~~~~~~~~~